Returning the goods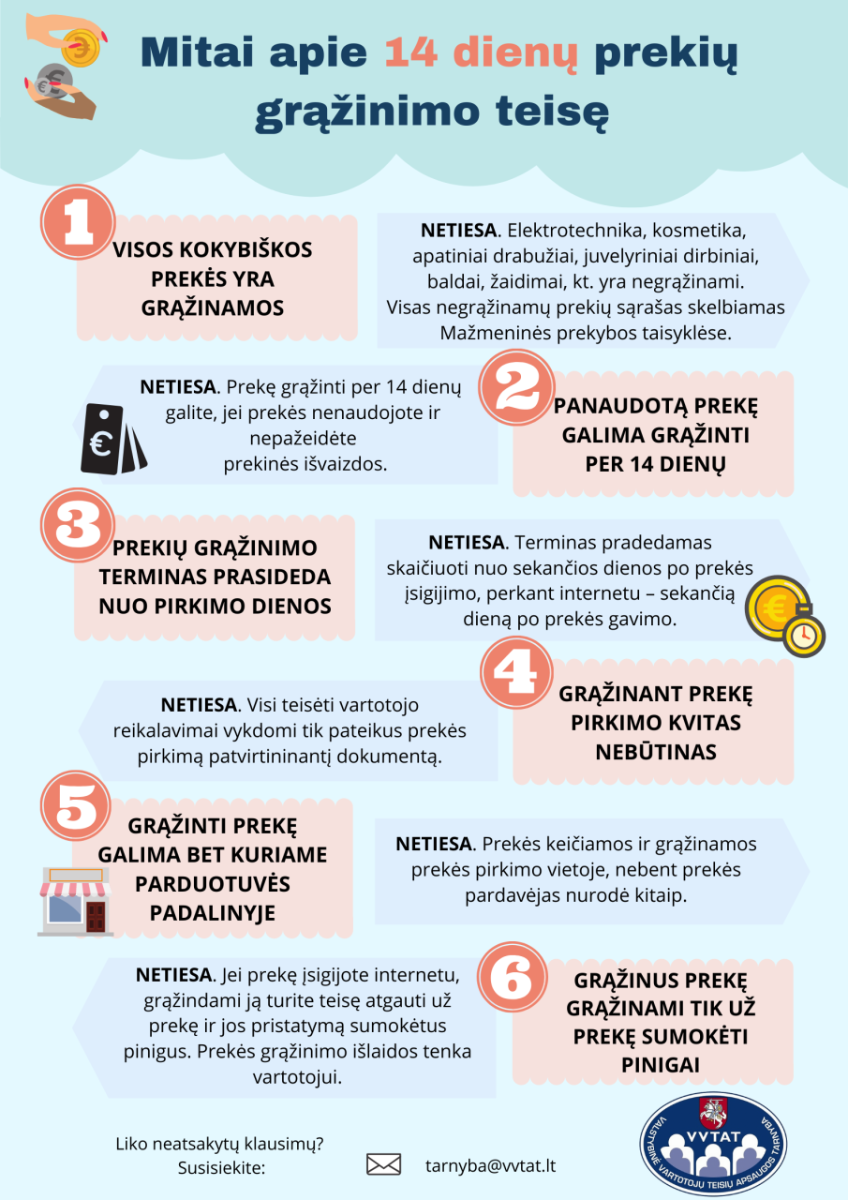 Jūs galite grąžinti netikusias prekes ir atsisakyti pirkimo – pardavimo sutarties.

Prieš grąžinant prekes būtina susisiekti su atsakingu LIZARD.LT darbuotoju telefonu +37068294314 arba el. paštu info@lizard.lt per 3 (tris) darbo dienas nuo prekės pristatymo dienos.
Grąžinamos prekės turi atitikti šiuos reikalavimus:
Grąžinama prekė turi būti originalioje tvarkingoje pakuotėje, tokioje kokioje gavote iš pardavėjo, su visais originaliais priedais, jei tokie buvo;
Prekė turi būti švari, nesugadinta, nepraradusi prekinės išvaizdos;
Grąžinama prekė turi būti tos pačios komplektacijos, kokios buvo pirkėjo gauta;
Grąžinant prekę būtina pateikti jos įsigijimo dokumentą, čekį, garantinį taloną (jei jis buvo išduotas);
Grąžinama prekė turi būti saugiai supakuota, rekomenduojama supakuoti į tą patį įpakavimą, kokiame gavote iš LIZARD.LT;
Pirkėjas grąžinamas prekes turi pristatyti savo lėšomis į su LIZARD.LT atsakingu darbuotoju sutartą vietą;
Pirkėjas pats atsako už saugų prekių grąžinimą LIZARD.LT;
Į  grąžintinų  prekių ar paslaugų sąrašą nėra įtraukiamos:
- Pristatymo, diegimo, prijungimo, nuomos ir kitos paslaugos. Pagal individualų kliento poreikį pagaminta ar užsakyta prekė. Prekių su ribotu galiojimo terminu (maisto, gėrimų, baterijų).
- Prietaisai, kurių naudojimas apribotas tam tikrais parametrais, vienkartinėmis licencijomis ar pan. (pvz. profesionalūs fotoaparatai, GPS navigacijos ir kt.)
- Dovanų kortelės.
- Spausdintuvų kasetės, jei buvo pažeistas gamyklinis kasetės įpakavimas.
- Sudaužytos, sugadintos, subraižytos ar kitaip dėl kliento kaltės mechaniškai pažeistos prekės. Programinė įranga, laikmenos su vaizdo ir garso įrašais, žaidimai be gamyklinio įpakavimo. Mikrofonai, ausinės ir kiti dėvimi prietaisai.
- Barzdaskutės, epiliatoriai ir kitos higienos prekės. Išankstinio apmokėjimo telefono kortelės.
Įstatymų numatyta tvarka LIZARD.LT įsipareigoja grąžinti pinigus per 7 darbo dienas po to, kai LIZARD.LT atsakingas darbuotojas patvirtina, kad prekė yra tinkamos būklės. Kai grąžinama nekokybiška prekė, LIZARD.LT įsipareigoja pasiimti nekokybišką prekę ir ją pakeisti analogiška preke. Tuo atveju kai LIZARD.LT neturi analogiškos prekės, LIZARD.LT grąžina PIRKĖJUI už prekę sumokėtus pinigus. Prekės grąžinamos dėl garantinio gedimo arba broko, yra keičiamos ar grąžinamos LIZARD.LT lėšomis vadovaujantis "Daiktų grąžinimo ir keitimo taisyklėmis, patvirtintomis 2001 m. birželio 29 d. ūkio ministro įsakymu Nr. 217"